NewsLeecher Review - Usenet Provider Put To The Test
NewsLeecher is a
Usenet provider
whose mission is to. To provide customers with the best possible
access without restrictions
. The Dutch provider entices with affordable rates, its own newsreader and many advantages – which is why I took a closer look at it. I'll tell you what I noticed in the following NewsLeecher review. Just this much in advance: In terms of retention, speed and test package, the provider can more than keep up with the rest of the industry.
Advantages and disadvantages of the provider
Very good retention time – above the industry average
No download limits and unlimited data volume
Up to 30 connections possible
Features like NewsLeecher SuperSearch integrated
– Features not suitable for all operating systems
The prices - can I save with a NewsLeecher coupon?
At the outset, it should be said that you definitely don't need a NewsLeecher coupon to get the full service of the Usenet provider. The ready-to-go tariff with all features and functions is
already available for twelve US dollars per month
, so that even the smaller budget can make optimal use of it. Those who want to pay a little less and are satisfied with a less extensive version can also join for just four dollars a month. Thus, the provider has one of the cheapest rates in the industry ready, even without a NewsLeecher coupon. The duration of all packages is twelve months, so there is unfortunately no NewsLeecher alternative in terms of prepaid rates or with a shorter commitment. On the other hand, the packages can be canceled at any time, so you don't have to pay for twelve months in a row if you're not satisfied, and you can change your mind at any time. This is a decisive advantage over other
Usenet providers
, in my opinion.
All packages also include VIP customer service, which answers questions or concerns pretty quickly. NewsLeecher is committed to providing the same level of support to all users – and therefore prioritizes customer service in every plan. Another piece of good news: a test version can be tried out – for 14 days and completely free of charge. So if you need to see for yourself first, you've come to the right place. What the trial version has in store, I'll reveal in more detail below:
Test for 14 days – with up to 14 GB data volume.
Anyone who wants to try out NewsLeecher's offer can do so for 14 days free of charge and with full access. A total of 14 GB data volume is granted here, which is not particularly much compared to other companies. For this, full bandwidth and download speed can be expected within this data volume.

High-speed network of independent type with 100,000 newsgroups
How does NewsLeecher differ from other Usenet providers? This question comes up at the latest when you can't decide between two or three favorites, or can only do so with difficulty. NewsLeecher can offer a total of more than 4,650 days of retention, which definitely exceeds the industry average. Retention is also constantly expanding, so customers can expect a growing variety in terms of content. More than 100,000 newsgroups can be accessed by the provider – which is rather manageable in comparison. After all, most other companies make it possible to access up to 200,000 newsgroups or more.
You should know that the company works with servers in the EU and USA, which generate a very good connection speed. Up to 500 Mbit/s are possible when accessing the Usenet via NewsLeecher. Those who want to make downloads can use unlimited data volume with the Premium tariff – and enjoy
downloading at full speed
. Otherwise, a key feature of the company is that it works with its own newsreader, which comes with many features. This includes, for example, the NewsLeecher SuperSearch, which makes searching and filtering particularly user-friendly. But more about that in a moment. One shortcoming, it seems to me, is the up to 30 connections at NewsLeecher. Other
Usenet providers like Giganews
allow 100 connections with encryption, so this provides a NewsLeecher alternative if you value their number.
Newsreader selection - many features, only one supported operating system
As already mentioned, NewsLeecher only has a Newsreader ready. This was set up by the company itself and is ready for use after the NewsLeecher download with some features. All formats of content are supported – for example PAR or RAR – so you are not limited at all. The only drawback is that the newsreader is only available for Windows devices, so users of other operating systems will have to look for alternatives. These are not necessarily free of charge. But features like NewsLeecher SuperSearch are built in, which make browsing through the content easier.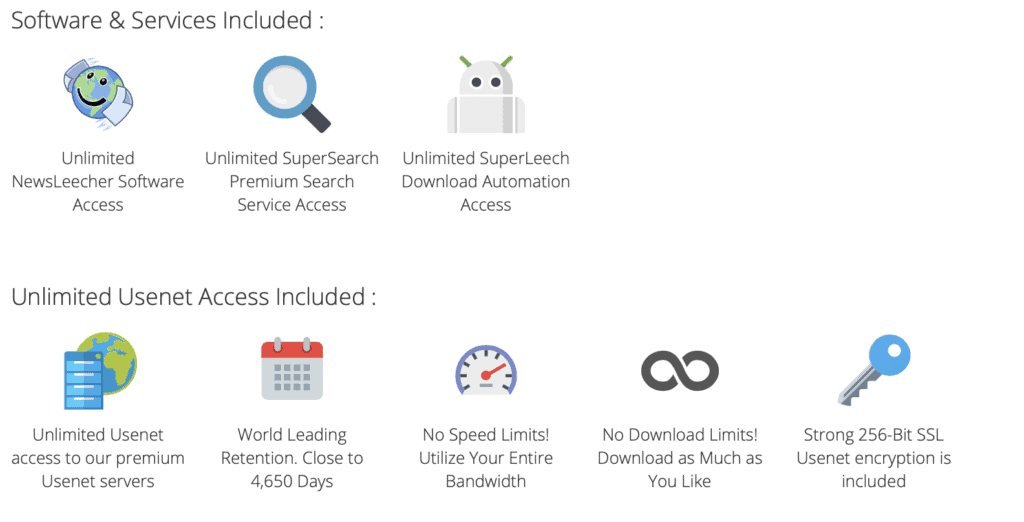 FAQs - all questions about NewsLeecher answered
Is there NewsLeecher in German?
Unfortunately, the company's website as well as downloads and customer service are only available in English. NewsLeecher can therefore not be used in German.
Again, I have to answer in the negative. NewsLeecher is just as legal as the other Usenet providers I featured on
Alynsmith.com
. Because: the company provides access to legal Usenet – very
similar to an Internet service provider
.
How to cancel NewsLeecher?
Anyone who no longer wishes to use the NewsLeecher subscription can cancel it at any time. For this purpose, a written notice of termination must be sent to the company by contact form .
NewsLeecher can be considered absolutely safe and reputable. Why? Because 256-bit SSL encryption is used here, which secures all personal data. Also, the customer service shows that the needs of the customer are capitalized here.
Does NewsLeecher have VPN software?
Unfortunately, a NewsLeecher VPN software is not currently offered – even in the premium packages this is not included. This is a disadvantage of the provider, as I have to emphasize in my NewsLeecher review.
Alternatives to NewsLeecher
If you want a NewsLeecher alternative for a similar price, which offers a lot more advantages, you can choose Giganews, among others. The
provider Giganews
relies on 17 years of retention and includes VPN in all packages.  The
provider Usenext
, on the other hand, provides its customer service in six different languages and also offers the best all-round package imaginable in other respects. For example,
access to over 200,000 newsgroups
is delivered here.
Conclusion: Final words about NewsLeecher
What can I make clear about NewsLeecher in conclusion? The provider comes with some advantages such as very favorable entry prices and features, but otherwise turns out rather mixed. Those who want to experience the best Usenet services will not necessarily be satisfied here. The fact that the colors of the interface can be changed and that there is also a good overview in other respects is praiseworthy – nevertheless, I cannot recommend NewsLeecher all around. That's why I only give it three out of five stars at this point.
Exclusive offers for AlynSmith.com readers
Register your email now and get exclusive instant discounts 1x a week for top brands on Usenet: